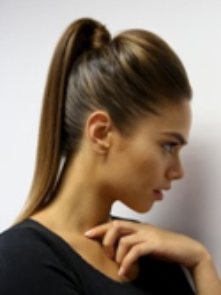 The look for spring is long. Whether it's tousled and boho or sleek and straight, long glossy hair is everywhere this season. But long hair doesn't always have to just hang down your back. As the weather heats up long pony tails are a chic alternative. A sassy top-knot pony makes the perfect statement for a workout or an after-work date.
Braids are still a hot trend, perhaps a "Frozen" influence that has yet to cool off. One of the great things about braids is that you can work them through almost any part of the head. Braids across the crown, over one shoulder, or along the hairline and above an ear are all flattering looks.  Messy braids are also super trendy and easy to make.
Buns are a fun alternative to a fussy up-do, and can go totally casual (the messy, "Oh, I just threw my hair up in two seconds and doesn't it look fabulous" look) or sophisticated and stylish (with tiny braids woven through and around the base for texture).
The takeaway for fabulous spring hair? Have fun with it! The old rules no longer apply, and crossover styles mean more options for any mood and every occasion. Loving the inspiration? Contact us for information on how to make a career out of setting your own hair trends! Financial aid is available, and bi-weekly enrollment means you can be on your way to a new career in just one month.
Want to see some more spring styles? Click here for a photo gallery.